Home Page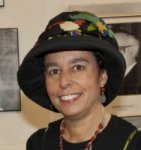 Historian and Heritage Campaigner Sharman Kadish has been active in Jewish heritage preservation for over 30 years. Her father was the artist Norman Maurice Kadish.

She set up the Working Party on Jewish Monuments in 1991 and organised the first national Survey of the Jewish Built Heritage in the UK and Ireland from 1996. She went on to found Jewish Heritage UK in 2004 and served as director of the charity (created in 2007) for 13 years, until the end of 2016. She is a Fellow of the Royal Historical Society and a Fellow of the Society of Antiquaries of London.

Kadish was born in London and educated at University College London and St. Antony's College Oxford and at the Hebrew University of Jerusalem. She has taught at the Universities of London and Manchester. She is author of a number of books on Anglo-Jewish history and heritage, including companion architectural guides Jewish Heritage in England (first edn. 2006) and Jewish Heritage in Gibraltar (2007). Her book The Synagogues of Britain and Ireland: An Architectural and Social History (Yale University Press 2011) was short-listed for the American Society of Historians of British Art Prize in 2013. A new edition of her guidebook Jewish Heritage in Britain and Ireland was published in 2015 by Historic England.

She has maintained a Web presence since 1999, when her project website for the 'Survey of the Jewish Built Heritage in the UK and Ireland' was launched. It was soon selected for archiving by the British Library as an important resource in its own right. In 2004 the original website morphed into jewish-heritage-uk.org and was greatly expanded.



sharmankadish.com

is now online as an authoritative successor site. It makes available once again valuable Jewish Heritage resources (devised by Kadish and her colleagues) that are no longer available elsewhere on the Internet. In addition, this site showcases her achievements beyond her Heritage activism.



Books Publications British Anglo- Jewish Architectural History Survey of the Built Jewish Heritage UK Ireland, Isle of Man, Channel Islands Jersey Gibraltar Synagogue Architecture Preservation Protection, Cultural Tourism, Open Days Access Save Our Synagogues, Conservation Cemeteries Listed Buildings Places of Worship At Risk...